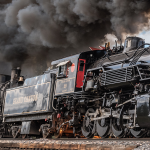 The Grand Canyon Railway celebrates the history of rail travel with several steam-powered excursions to Grand Canyon National Park each year. An operational steam locomotive can be a rare sight in the 21st Century, which is why the railway keeps two fully-restored vintage steam locomotives in service to pull The Train on select dates throughout the year. Check the calendar to see which dates will feature either GCR No. 29 or GCR No. 4960 out in front of The Train.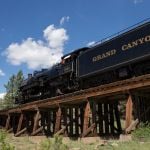 2020 Steam Saturdays Train Schedule :
February 15 (Presidents Day)
March 7
April 4
April 25 – Earth Day
May 2
June 6
July 4
August 1
September 5
September 19 – Grand Canyon Railway Anniversary
October 3
Cars are available in several price ranges with varying amenities. Learn about the differences and check the schedule fares here.
Note: During Steam Saturdays, only the 9:30 AM train will be a steam engine.
Learn more about The Grand Canyon Railway
Learn more about The South Rim of The Grand Canyon here.
Williams is a wonderful place to live and vacation. Be sure to add these items to your Williams Vacation Plans.